Mniejszościowy etnobiznes w Rumunii. Przypadek słowiańskojęzycznej ludności w Marmaroszu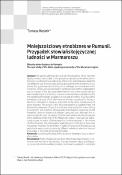 Wydawnictwo
Instytut Europy środkowej
Abstrakt
The author addresses the issue of ethno-business, which has been largely unresearched to date. In the approach proposed by the author, ethnobusiness is understood as a wide range of practices and behaviours related to the deliberate use of existing regulations going beyond the intentions of legislators that guarantee cultural and political privileges for national and ethnic minorities. Various activists and leaders gathered around ethnic organizations and co-creators of the discussed phenomenon most often pursue their private material or political interests. However, ethno-business is closely linked to the established Romanian legislation on national minorities. Thus, the author investigates the roots of this phenomenon, introducing readers to the regulations on minorities in Romania, and points to the social consequences of ethno-business. The analysis of the discussed problem is supplemented and illustrated by examples of specific behaviours observed by the author during his long-term and extensive ethnographic field research carried out on the Romanian-Ukrainian borderland between 2009 and 2010. Although this research project focused on aspects of ethnic and national identity among the Slavic-speaking community of the Maramures region, it also gave an opportunity to spot a number of behaviours that can be interpreted in the context of ethno-business. The ethnographic examples given in the article show how the policies related to the protection of national minorities in Romania can be exploited in various circumstances by different individuals who have relevant knowledge of the rights of national minorities.
Słowa kluczowe
ethno-business, Maramureş, national minorities, Romania, Rusyns, Ukrainians
,
Maramureş
,
national minorities
,
Romania
,
Rusyns
,
Ukrainians
Cytowanie
T. Kosiek, Mniejszościowy etnobiznes w Rumunii. Przypadek słowiańskojęzycznej ludności w Marmaroszu,"Rocznik Instytutu Europy Środkowo-Wschodniej" 18(2020), z. 2, s. 103-121, DOI: https://doi.org/10.36874/RIESW.2020.2.5.
Kolekcje