Post-fenomenologiczna narracja w powieści Bieguni Olgi Tokarczuk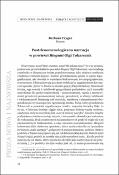 Wydawnictwo
Wydawnictwo Uniwersytetu Rzeszowskiego
Abstrakt
In the paper we make an attempt to read out the post-phenomenology of Henri Maldiney in the novel 'Bieguni'. Maldiney's post-phenomenology is not treated as a doctrine, but an action and an activity made against the elements of psychoanalysis and postmodernism. The world depicted in 'Bieguni' is one in which we can observe continuous movement and compulsion. The border between the entity and the world they are living in has been erased. It is the world in which a man has to choose his identity. "Being on one's way" opens a person to new experiences and inspires him/her to some creative actions. Neither the nomadic thinking nor the format of writing are growing; not in some determined theoretical place, and not either in some well-defined writing style. The identity of the individual seems to be set, and formed only by his self-understanding. Tokarczuk's 'Bieguni' is becoming part of an important discourse on the literature of the 21st century. It is not necessary to consider narrations only in the aesthetic context, which is cleaning the world up, but as the act of mind turning life into art. Every man is a wanderer travelling not only in the physical but also cultural dimension, and such journeys have both literal and metaphorical meanings. A walk consisting of seeking oneself as an artist, spiritual and intellectual travel, and exploring the world of symbols, are the professional domain of authors, and at the same time an excerpt of their mythology.
Słowa kluczowe
Tokarczuk, Olga
,
Bieguni
,
post-fenomenologia
,
intelektualna podróż
,
post-phenomenology
,
journey
Cytowanie
Trygar B.; Post-fenomenologiczna narracja w powieści Bieguni Olgi Tokarczuk; "Tematy i Konteksty" 2015, nr 5 (10): Proza nowa i najnowsza; red. J. Pasterska, s. 18-30.