Ana­lecta Archa­eolo­gica Res­so­viensia vol. 12 (2017)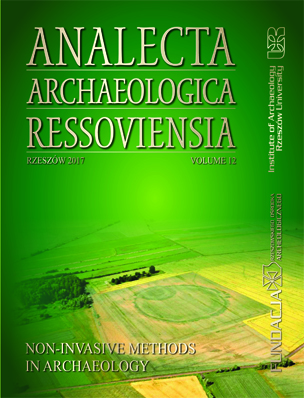 URI dla tej Kolekcji
Przeglądaj
Ostatnio nadesłane materiały
Aktualnie wyświetlane
1 - 5 z 25
The First Chronometric Markings of the Late Stage of the LPC in the Northern Foreland of the Sandomierz Upland

(

Fundacja Rzeszowskiego Ośrodka Archeologicznego,

2017

)

Szeliga, Marcin

The article presents results of first radiocarbon analyses carried out for samples obtained from the Linear Pottery Culture settlement on site 6 in Tominy, Opatow district. Presented radiocarbon dates highly enrich current database of chronometric markings relating to the early Neolithic in the Sandomierz Upland and its northern foreland. Together with data on stylistic and typological differentiation of the vascular pottery, seem to reveal a specific course of development of local groups of the Linear Pottery Culture, which is characterized by particularly long term functioning of the music note ornamental traditions, as well as their late, little intense and retarded coexistence with the early-Želiezovce stylistic influences. These data are also a quite significant contribution both to the discussion on the overall time range of the Linear Pottery Culture, as well as the nature and course of the final stage of its development in the upper basin of the Vistula River.

International Colloquium. Beyond Excavation. Geophysics, Aerial Photography and the Use of Drones in Eastern and South-East European Archaeology, 5–8 December 2016, Piatra-Neamț, Romania

(

Fundacja Rzeszowskiego Ośrodka Archeologicznego,

2017

)

Preoteasa, Constantin

The paper presents several data on the international colloquium organized in 5–8 December 2016 to the Cucuteni Eneolithic Art Museum of Piatra-Neamț (Romania) by a Romanian- German joint research team, having as topic non-invasive interdisciplinary archaeological researches, especially geophysical surveys and aerial photographs made with drones. On this occasion were presented results of the profile investigations made especially during the last years in various historical and civilization sites, by scientists of the prestigious museums, universities and academic institutions from Romania, Germany, Poland, Republic of Moldova, Ukraine, Czech Republic, Hungary and Netherlands, through 22 presentations and 4 posters. These data are also included in the volume of abstracts of the event; currently the organizers are editing the volume with the proceedings of the colloquium.