Edmund Burke's present discontents: Political propaganda or a work of political science?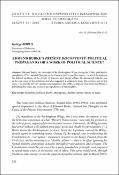 Wydawnictwo
Wydawnictwo Uniwersytetu Rzeszowskiego
Abstrakt
Edmund Burke, the ideologist of the Rockingham Whigs during the 1760s, published a pamphlet in 1770 – entitled "Thoughts on the Cause of the Present Discontents" – in which he analysed the difficult problems of the decade in domestic and foreign affairs. He determined what he saw as the root cause of the problems, and also suggested a solution to them. The primary aim of this essay is to describe the very special circumstances of the 1760s, to explain what motivated Burke in publishing this work, and to assess the significance of the pamphlet.
Słowa kluczowe
instability
,
political theory
,
propaganda
,
double cabinet
,
theory of party
Cytowanie
Studia Anglica Resoviensia T. 13 (2016), s. 126–133