Plants – a source of therapeutic material?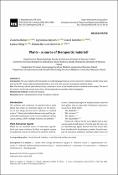 Autorzy
Bartusik-Aebisher, Dorota
Wydawnictwo
Wydawnictwo Uniwersytetu Rzeszowskiego
Abstrakt
Introduction. The use of plants with therapeutic or medicinal properties is as ancient as human civilization and for many years prior to the 20th century, plants and animal products were the main source of therapeutic medicinal drugs. Aim. The discovery of new plant-derived drugs continues to be an active field of research in medical science today. The aim of this article is to describe several main classes of natural products currently under investigation. Material and methods. Analysis of literature.
Słowa kluczowe
plants
,
natural products
,
drug
,
therapeutic material
Cytowanie
European Journal of Clinical and Experimental Medicine T. 16, z. 1 (2018), s. 34–36