Wiwisekcja duszy niemieckiej w powieści Trzecie królestwo Andrzeja Kuśniewicza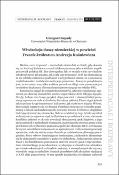 Wydawnictwo
Wydawnictwo Uniwersytetu Rzeszowskiego
Abstrakt
Andrzej Kuśniewicz (1904-1993) was an acknowledged writer whose works used to be popular and widely read, but after 1989 a number of them fell into oblivion. Both aesthetic and cognitive values have been retained – by and large – thanks to the novels which referred to the Habsburg myth in European literature, which was defined by the eminent Italian German specialist Claudio Magris. However, the Polish writer explored other ranges of his interests as well, for example the ones concerning his personal experience acquired after his stay in France ('Witraż' 1980). The writer dealt with subjects connected with events which took place in West Germany in the 1960s. They were reflected in his previous novel 'Trzecie królestwo', published in 1975. In spite of the writer's complicated fate in the Polish People's Republic, the work presents a huge breakthrough which happened a quarter of a century after the end of the Second World War in the politics of the FRG and in West German society in a very attractive literary form. At that time our western neighbors had to fundamentally redefine the conservative perception of their own history. In fact, to a large extent the situation had been initiated by the generation of people born in 1968 that took up the reins and started to rule the country. The author of the article attempts to present the struggle – embedded by Kuśniewicz – of the generation of perpetrators who faced difficult questions asked by their children and sometimes even grandchildren. To conclude, although the description provided by the Polish prose writer is not free from some simplifications characterized by extreme subjectivity, we must admit that the book is a valuable piece of evidence depicting a significant period in the history of Central Europe.
Słowa kluczowe
Kuśniewicz, Andrzej
,
przełom polityczny RFN
,
historia
,
przewartościowanie
,
political breakthrough in FRG
,
history
,
redefinition
Cytowanie
Supady G.; Wiwisekcja duszy niemieckiej w powieści Trzecie królestwo Andrzeja Kuśniewicza; "Tematy i Konteksty" 2015, nr 5 (10): Proza nowa i najnowsza; red. J. Pasterska, s. 333-343.